Dianne Harris Designs
---
Leather Bags and Accessories

I'm an artisan based in the Seattle area producing quality leather goods that will stand the test of time. I work from a small studio surrounded by tall trees and lots of ferns that inspire my creative flow to produce an array of leather bags, belts and accessories. I let the leather speak for itself in what and how an item gets designed and constructed. I seek out unique leather that allows for many one of a kind items. Many of my items are only available when you see them online or when I'm selling at a market, as I like to try and keep everything a little different so you have an original product.

It all started many years ago when a friend asked me to repurpose a full length leather coat with lining shredded beyond repair. She said, "Can you make something from this?" From that coat I created my very first bag with a few tools that I had around the house and a lot of inspiration. From that point on I knew I had found my calling. Since then I have been able to expand from the kitchen table to a small studio and have all the right tools for the job. I hope you will enjoy your bag or accessory as much I love making them.
Please let me know if you would like a custom item made. A sentimental bag I make is lined from material that you provide. Last year I made bags lined with wool school uniform material from grade school 40 years ago. As a birthday gift to the friends I went to school with back then (we celebrated a milestone birthday) I gave each of them a bag, tears and memories flowed. Any kind of heavy duty fabric will work.  Some examples are from: soldiers, police, firemen, sports, food service and medical uniforms to name a few. This is a really personal gift or purchase for yourself and I would be happy to discuss a custom bag or accessory with you.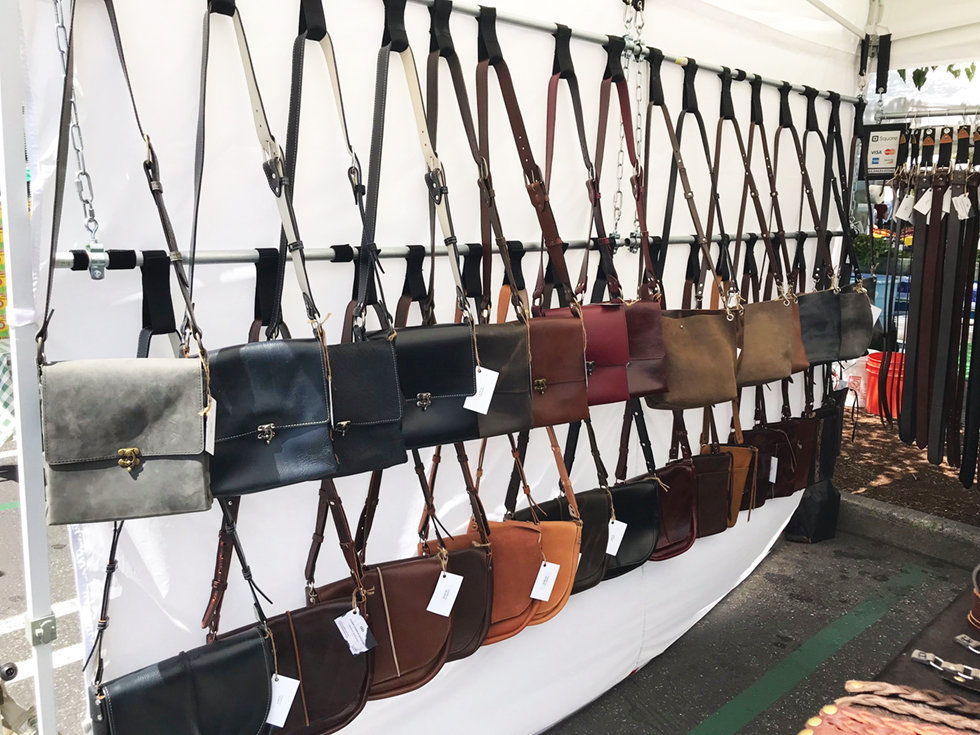 Dates at Crossroads Farmers Market: All
Payment Types Accepted: cash, tokens